Engineering LEAP (E-LEAP)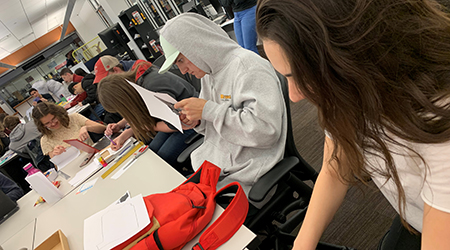 WHY E-LEAP?
Fulfills 3 General Education requirements in 2 classes. Social & Behavioral Science (BF), Humanities (HF) & Diversity (DV.)
Consistency. Have one professor, peer advisor, and the same classmates for an entire year.
Develop Skills.
Team Building
Presentation Skills
Library Research Strategies
Connections to the Honors Program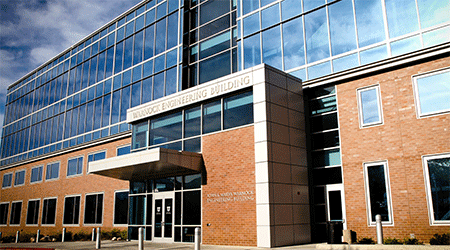 SOCIAL & ETHICAL IMPLICATIONS
Learn about mining and engineering and how they affect policy making and communities and the impact they can have on innovation.
ENGINEERING & MINING MAJORS THAT REQUIRE LEAP
Computer Engineering
Electrical Engineering
Materials Science and Engineering
Mining Engineering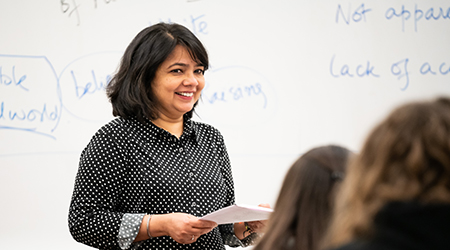 E-LEAP FOR WOMEN
+ MINORITIZED GROUPS
This class is open to all students and is designed to support minoritized STEM groups by fostering a community of support. Minoritized STEM groups as defined bythe National Science Foundation are:
Women
Non-binary genders
African Americans
Hispanics
American Indians
Alaska Natives
Persons with disabilities
LEAP 1501 and 1500 are predominantly discussion based classes with lectures interspersed to guide the class discussion. To enable these conversations and discussions, readings are assigned for each class, which will focus the trajectory of your learning. Reading assignments will average about 20- 50 pages for many class periods. Because we have so much material to discuss in any given class period, and class will consist largely of discussion rather than lecture, you must come prepared by having done the reading in a thoughtful, responsive manner. Read the texts with critical skepticism, i.e., to identify the main ideas presented, to weigh and evaluate these ideas with an open mind, and to be prepared to share your responses about what you have read.
This course:
♦ Is designed to support groups minoritized in STEM (as defined by the National Science Foundation) across their disciplines within the Colleges of Engineering and Mines.
♦ Will have activities (both inside and outside of class) geared toward fostering a community of support for women in engineering.
♦ Focuses on the ethical standards of engineers in national and global settings and addresses concerns. Relevant for minoritized groups in STEM.
♦ Emphasizes how communities have developed and been implemented in the American experience.
♦ Provides a female engineering major as a Peer Advisor.
FALL 2023 E-LEAP promoting Women & Minoritized students in STEM:
LEAP 1501 - Section 005
Class# 12474
MoWeFr / 10:45 AM-11:35AM
More information about this class contact:
Seetha Veeraghanta, PhD.
Engineering LEAP (E-LEAP) hires mentors each academic year. The class is designed to inspire and support women and minoritized groups in Engineering and Mining Sciences by providing opportunities to:
Make connections with peers and colleagues in their colleges
Share their experiences to positively impact undergraduate education
Create a sense of belonging and community and offer support to one another
Mitigate the academic, professional, social challenges faced by many minoritized groups in the Colleges of Engineering and Mining
The goals of the Engineering LEAP Mentoring Program are to:
Recruit, support, and promote women and other minoritized groups in engineering education and professions
Provide support in the pursuit of their career, here at the University of Utah
Advocate for their success

Primary Responsibilities of Mentors
Each mentor will be assigned up to three mentees
Must meet in person at least once a month with each mentee
Must communicate (via email/text/phone) at least two additional times with each mentee every month

Employment Terms
Fall 2023 and Spring 2024
A stipend of $300/per semester

Qualifications
Current student in the College of Engineering and/or Mines
Must be able to provide at least six hours of mentoring per month
Good interpersonal skills
Good leadership skills
Minimum GPA of 2.5

APPLICATIONS WILL OPEN DURING FALL 2023
"Social and Ethical Implications of Engineering Technologies," LEAP 1501, provides you with an understanding of the role of ethics in the engineering profession. This course prepares you critically to understand and appreciate the social and ethical implications of engineering technologies. Through the help of articles and case studies you will learn to identify these impacts within the broader context of local and global communities.
You will identify responsibility based on professional codes of ethics published by discipline specific organizations. We will look at some engineering failures in order to integrate concepts of risk analysis into the discussion of ethics and professional responsibility, especially as these failures relate to public health, safety, and whistle blowing.
You will examine the notion of sustainable development and more specifically how this perspective influences our use and development of renewals from the practicing engineer's perspective.
In addition, you will also critically evaluate ethical implications of issues such as globalization and rapid growth of information technology. You will explore your discipline specific discourse on sustainability and ultimately present your findings as a culmination of your semester-long learning at our Spring LEAP Symposium.
In order to understand the role of the engineer in local, national, and global settings, you will begin by asking:
What is a society or community? How do engineers define a professional society? What is the purpose of professional engineering societies?
How can engineers determine what is ethical while making decisions within different communities? Are traditional philosophical concepts about ethics applicable to engineering codes of ethics, or are there other ways to think about engineering ethics?
What are some of the major questions and problems about communities studied by social scientists? What can engineers learn from social scientists and implement in dealing with other engineers, with corporations or government agencies, and with the public?
How do social scientists study human behavior and institutions? What should engineers know about social and organizational theory?
What role do social scientists play in our society in influencing public debate and public policy? How does this relate to the role of engineers as citizens and as technical advisors in shaping progress or changes in technology?
How do social scientists and engineers analyze and respond to issues of globalization?
In the second semester of Engineering LEAP the focus is on broadening our understanding of the diversity of perspectives in America. We examine literature that offers a variety of contemporary perspectives on equality, race, and opportunity in America. This variety of perspectives allows the course to fulfill the University's Diversity requirement. As you read the texts, consider questions such as:
How does the perspective of America described in the reading compare to your perspective of America?
Why do you think the author wrote the text? Do they have a clear point to get across to their audience?
How does the protagonist in the particular reading describe and identify himself or herself? How do they see the world around them? Do they provide an explanation for their viewpoints?
How does one's culture and the history of that culture affect one's identity and behavior?
What impressions, feelings or questions do you have after doing the reading?
How do you feel towards the main character or protagonist? Is this someone you would want to eat dinner with or sit by on an airplane or get to know better?
Is the perspective of the author and/or the main character slanted toward the position that in America culture, wealth, and race are more determinant of one's future or is the position slanted towards individual responsibility and accountability as determinants of success?
How do your own personal experiences shape your analysis and impressions of the reading?
What opinions, comments and questions about the reading can you bring to the class discussion on this reading?
Course material for this class depends on the section/instructor you choose.
Reading Materials
There is no one required text for the class. All the readings are available online on Canvas as pdf documents. Links to video recordings are available on Canvas as well; you are required to login using your UNID and password.
LEAD Faculty for E-LEAP
Seetha Veeraghanta, PhD.
---
Jennifer Seagrave, PhD.
---
Louise Pedersen, Ph.D.
April Vrtis
---
Or visit the College Of Engineering Undergraduate Advising page to find the academic advisor for your area of interest.
Pam Hofmann
Administrative Assistant, College of Mines and Earth Sciences
801-585-5176

E-LEAP Fall 2023 COURSES
Class #
Subject
Catalog #
Section
Modality
Day/Time
18156
LEAP
1501
001
IN-PERSON

MoWeFr / 10:45AM-11:35AM

12475
LEAP
1501
002
IN-PERSON

MoWeFr

/

11:50AM-12:40PM

12476
LEAP
1501
003
IN-PERSON
MoWeFr / 12:55PM-1:45PM
12473
LEAP
1501
004
IN-PERSON

MoWeFr / 09:40AM-10:30AM

12474
LEAP
1501
005*
IN-PERSON

MoWeFr / 10:45AM-11:35AM

12477
LEAP
1501
006
IN-PERSON

TuTh

/

9:10AM-10:30AM

12478
LEAP
1501
007
IN-PERSON

TuTh / 10:45AM-12:05PM

16544
LEAP
1501
008
IN-PERSON

TuTh 12:12PM-1:45PM

15206
LEAP
1501
091
ONLINE

ASYNCHRONOUS
* This section is designated as E-LEAP promoting Women and Minoritized STEM students.