Opportunities

Scholarships
LEAP Scholarships for 2020-2021

LEAP scholarship deadline extended! Due March 21st
LEAP scholarships are open now through March 21st on the University Scholarship site. You may also access the scholarship site from CIS. Once you have logged in, search keyword: LEAP.
LEAP is offering three different opportunities with multiple awards for each. Criteria will be listed within the scholarship application, but all scholarship applicants must have two semesters of LEAP competed by May 2020.
LEAP Asha Davenport Memorial Scholarship
LEAP Diversity & Financial Need Scholarship
Multi-Year LEAP Scholarship
Click here to be redirected to application process.
Peer Advisor Scholarships are available for current Peer Advisors HERE. Be sure to read the application thouroughly, and be aware that completing this form is only part of the application process.
LEAP Scholars
LEAP scholars are students who completed two semesters of LEAP, these students are eligible for LEAP Scholarships and eligible to purchase a cord for graduation . Cords are $6 and can be purchased from Alison Flanders, Sill Center, Rm 130, cash or check only.
Workshops
WILL BE AVAILABLE FALL 2020

MORE DETAILS TO COME.

LEAP Student Symposium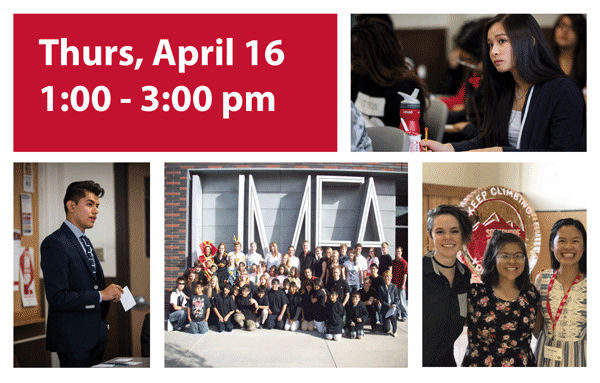 THE LEAP SYMPOSIUM WILL BE IN APRIL 2021
LEAP LEARNING COMMUNITY 2020 STUDENT SYMPOSIUM
The LEAP Learning Community provides an opportunity for students to present their work in a scholarly setting to students, faculty and other members of the University of Utah community. Students from all LEAP courses are invited to present their research and creative work at our first annual symposium.
SUBMISSIONS OPEN: March 15, 2021
This is an opportunity for students to communicate their research and creativity, build communication skills, and show off their work to a diverse audience.
To present:
Students must be the primary producer of the work.
Student researchers are expected to be in attendance during the main exhibition period on April 26th from 12:30-2:30 PM
For the event:
A panel of faculty judges will evaluate the projects and award prizes.
Family and Friends are encouraged to attend.
Light refreshment will be served.
We are asking that presenters fill out the form via the link below and give detailed information about your presentation, method of display, and any other information that might help us determine our need for space and time.
Registration opens in march. Please contact Alison Flanders at alison.flanders@utah.edu with any questions.

Employment